March 06
"I was thrown out of college for cheating on metaphysics exam; I looked into the soul of the boy next to me. -Woody Allen
"...Knowing the Allies planned to launch a major offensive at the Somme River that July, the German high command was determined to keep French troops and resources devoted to the defense of Verdun throughout the spring. To do this, Falkenhayn determined that he needed to change the focus of the German attacks, shifting them from Verdun and the inner ring of forts that protected it -the core of Petain's defensive strategy -to the flanks of the French lines surrounding the city. To that end, on March 6, after receiving fresh artillery supplies, the Germans attacked along the west bank of the Meuse, beginning the so-called Battle of the Flanks with a preliminary artillery bombardment every bit as intense as the one of February 21. Although under heavy fire from French artillery positions, the Germans managed to cross the river at Brabant and Champneuville to step up their assault on Mort-Homme, which held, though 1,200 French soldiers were captured over the course of two days' fighting. The Germans made good progress in the area in general, however, capturing nearby positions before the French began their aggressive counterattacks. The struggle for Mort-Homme itself went on for more than a month, with thousands dying on both sides of the line, but the Germans never captured the position. Fighting at Verdun would continue for 10 months, making it the longest battle of World War I. Paul von Hindenburg—who replaced Falkenhayn that summer—finally called a halt to the German attacks on December 18, after more than a million total casualties had been suffered by German and French troops..." March 06
Directives on the Treatment of Foreign Farm Workers of Polish Nationality. Issued by the Minister for Finance and Economy of Baden, Germany: "...1. On principle, farm workers of Polish nationality are no longer granted the right to complain, and thus no complaints may be accepted by any official agency . . . . 4. The visit to churches, regardless of faith, is strictly prohibited, even when there is no service in progress . . . . 12. Every employer has the right to give corporal punishment to farm workers of Polish nationality if persuasion and reprimand fail. The employer may not be held accountable in any such case by an official agency..." March 06
Today's Featured Site: The Slave Labor Program
"...The Dutch Resistance was one of the fiercest of all the underground movements in Nazi-occupied Europe. "The Dutch never accepted the German contention that . . . the war was over," wrote the Dutch foreign minister in a postwar account of life under Nazi occupation. "[T]heir acts of resistance and sabotage grew more audacious as time passed." Those acts of resistance and sabotage included harboring Allied soldiers and pilots who either parachuted or crash-landed within Dutch territory, harboring Dutch Jews, and killing German troops. The Resistance was composed of representatives from all segments of Dutch society, ranging from the most conservative to communists . . . . [Johann Baptist Albin] Rauter was head of the SS in Holland and answered directly to Heinrich Himmler, the SS commander . . . . Rauter was riding in an SS truck, filled with food destined for the Luftwaffe (the German air force) based near Apeldoorn on March 6, 1945, when some young members of the Dutch Resistance ambushed the truck. The closing days of the war had left much of occupied Holland close to famine conditions, and the guerrillas were determined to co-opt the food. They did not know Rauter was in the truck when it was attacked; Rauter was shot during the heist attempt but lived. In retaliation, the SS proceeded to round up and execute 263 Dutchmen, some of whom were Resistance fighters who were already being held in prison. Rauter was tried for war crimes by the Dutch court Den Haag. He was found guilty and sentenced to death. He appealed the sentence at Nuremberg in 1949, but the sentence was upheld and he was executed that year..." March 06
Today Is: March 06
Today's Tweet: Peacock Panache (@PeacockPanache) American Right Weak-Kneed Over Russia's Vladimir Putin http://fb.me/32BmjdJyz
Today's Comic: Seth Meyers: "Despite the fact that the Ukraine has been all over the news for the past few weeks, a survey found that 64 percent of U.S. students still couldn't find Ukraine on a map. Said Vladimir Putin, 'Soon nobody will'."
Today's Idiot: George W. Bush: "I looked the man [Putin] in the eye. I found him to be very straightforward and trustworthy. We had a very good dialogue. I was able to get a sense of his soul; a man deeply committed to his country and the best interests of his country."
Today's Insult: "The Olympics are done. The Russians have nothing to do so they invaded Crimea. President Obama is steamed. He says to Putin, "Pull your troops out of Crimea or the U.S. will not attend the next G-8 summit." Well, that will show him. Putin will think twice about it now. Last thing he wants to do is offend the United States so they stay home from a summit meeting." David Letterman
Twitter: @3rdReichStudies
Note: Images may or may not accurately represent the item adjacent to them. Also, please note that there is much, much, MUCH more detail available-and many, many, MANY more items as well-every day on the linked What Happened Today page. For the full story behind the events of this day, click the March 06 link. Really, March 06. Seriously, the March 06 link is the one to click. That's right, this one: March 06
Disclaimer: The selected Quotes, Jokes and Cartoons may or may not represent the views of the compiler of these daily posts. If they give you something to think about, they will have accomplished their task. Levi Bookin, Copy Editor, in particular bears no responsibility for any of them. He does, however, do a truly admirable job on the linked Daily pages, which everyone should peruse on a daily basis. It is WELL worth the small effort required. The Trick is to Click-> March 06
WW II vet held in Nazi slave camp breaks silence: 'Let it be known' http://www.cnn.com/2008/LIVING/11/11/acevedo.pow/index.html?iref=24hours
Click to join 3rdReichStudies
A memorial site in Berlin is being planned to commemorate the 600,000 Italians deported to Germany and put into forced labor during World War Two http://www.dw.de/german-italian-wwii-history-remembered/a-16466236
Please promote this Group (where appropriate):
See the Yahoo! Group 3rdReichStudies - WW1, Weimar, WW2, Holocaust, Cold War:
http://groups.yahoo.com/group/3rdReichStudies/
Memorial to victims of Nazism in occupied Poland during World War II, Kraków
From The Third Reich: A New History, by Michael Burleigh: Most wartime collaborators banked on German victory and Allied defeat. As the Dutch politician Colijn wrote: 'Europe and Germany: Germany and Europe, this will be the relationship to be reckoned with from now until any humanly foreseeable future. One must forget any preference one may have for one thing or another: normally one's influence on the course of things is next to nothing, but in this particular case it is literally nothing.' They were therefore exceptionally preoccupied with what Germany had to offer by way of a postwar settlement. Intermediary German officials often palmed these individuals off with talk of a reorganized fascist Europe. By contrast, Hitler, who regarded all such talk as presumptuous irrelevance, dealt with collaborator elites either by keeping local fascists at arm's length or by using them to frighten the local elites into line. European fascists were so many pawns on his big game-board. Writing to Mussolini on 25 May 1940, he confused the Walloon Leon Degrelle with the Flemish fascist Joris van Severen, whom the French had recently shot, and mistook the non-fascist Colonel J. A. Mussert for his brother Anton, the Leider of the Dutch NSB, whom he had met in 1936. According to Otto Abetz, the German ambassador to Paris, Hitler stumbled whenever he tried to pronounce the imported and Germanised term 'Kollaboration', as if he could not get used to a concept coined by, and invested with excess meaning by, foreigners. It took interminable negotiations for a Mussert or a Quisling to see the new master of Europe, a right of access enjoyed by every Nazi regional Gauleiter. The fascist collaborators' names are not even mentioned in standard biographies of Hitler. The Fuehrer sometimes explained to his intimates what was obvious to everyone except European fascists. On 26 April 1942, Goebbels reported him as saying:
"Talk of collaboration is only designed for the moment. Incidentally, he'd rather first see deeds and not hear words. He said, should the war turn out as he wished, then France must pay dearly, because it caused and inaugurated it. It would be thrown back to its borders in 1500; that means that Burgundy will become part of the territory of the Reich once again. We will thereby recover a country with which scarcely any German province is comparable in terms of wealth and beauty."
For perhaps the insurmountable stumbling block for collaborators and collaborationists alike was that Hitler was not offering a pan-European fascistic federation, along the lines of the Fascist International essayed by the Italians in the 1930s, nor was he prepared to moderate crushing demands for goods or labor, to ease the lot of local familiars whose names he could not remember. There were no 'visible results' for those such as the former socialist politician Pierre Laval, stalking the lonely path of collaboration. The inequalities of this dialogue and the naivety of the collaborator supplicants can be sampled from Laval's conversations with Hitler in the wake of the 1942 Allied landings in North Africa:
"Whereas in the past wars had been fought between village and village, and later between country and country, an entire continent must now be organized for peace. But this was not possible if each country insisted on putting forward certain demands for the satisfaction of its natural greed. . . . He did not want certain egoisms to hinder the construction of the structure desired by the peoples of Europe [he was talking about the Italians]. . . . This conversation showed . . . that he wanted to do everything to facilitate Germany's victory. But in order to carry out this aim, he required certain moral and political preconditions, i.e. the victors must help him by creating a suitable atmosphere."
Many French people regarded collaboration as 'a one-way street'; Laval needed 'some gesture or declaration which would render his task in France more easy'. A few hours after this conversation Hitler, who was not given to obliging people, ordered the occupation of the rest of France. German intransigence made a nonsense of the claim put forward by collaborators that their actions had deflected the Nazi application of the Polish worst-case scenario to their respective countries, even supposing that such people were privy to German intentions, which was not the case. Apart from the fact that the Germans regarded the inhabitants of the Low Countries, France and Scandinavia in a different light from Slavs, there was scant evidence that the existence of the Vichy regime ameliorated the lives of the French more than the lives experienced by nations under direct German civilian or military occupation. In what respects was life in Vichy France better than that in occupied Denmark, the Netherlands or Norway? The notion that Vichy was a 'shield' was self-deceptive and self-serving. The airy speculations of intellectuals were even more preposterous, some of whom, according to Ninetta Jucker, who lived through the occupation, believed that the French were destined to play Greeks to German Romans, a conceit Harold Macmillan subsequently entertained vis-a-vis Eisenhower and Kennedy and Anglo-American relations in general.
Ideas for a post-liberal economic order were popular in many circles during the troubled 1920s and early 1930s. Hence during 1940-1 there was much talk about something called a New Order in Europe, with plans for abolishing passports, for a Reichsmark currency bloc and for a common European postage stamp, the cauchemars of modern 'Eurosceptics'. Actually, what was being actively considered more closely resembled the Japanese Co-Prosperity Sphere in East Asia and the Pacific than arrangements freely entered into since 1945 by democratically elected European governments. To compare present arrangements with the past is an outrageous oversimplification, which ignores the antecedents of the EU in the idealism of wartime resistance movements, and the not inconsiderable difference between dissolving Germany in a Europe of regions and outright German dominance.
What was afoot was an old-fashioned economic imperialism, with an industrially developed core surrounded by a periphery producing food and raw materials, along the lines of the relationship Britain was said to have with her empire. Indeed, in 1937 a garrulous Goring had told his English friend Group Captain Christie: 'We want an empire.' Paradoxically, talk of economic integration, with Germany as the manufacturing heartland of a tariff-free zone detached from the international economy, was most intense in 1940-1, when German interest in developing rather than pillaging the occupied economies was lowest.
But it was not entirely a matter of hot air, since concrete steps were taken by Germany to usurp the role of the City of London by denominating all international transactions in Reichsmarks. This meant that trade and capital transfers or transfers of patent rights, pensions and production rights increasingly passed through Berlin. German influence was also fostered through capital penetration, with both the Reichswerke Hermann Goring and private sector banks and corporations acquiring controlling stock in banks and businesses in occupied countries. German insurance firms swiftly supplanted the once dominant British, in auto, fire and theft sectors, and also in large risk underwriting, with the new Association for Coverage of Major Risks intended to usurp the functions of Lloyd's of London. As one leading historian has observed: 'The New Order economy did not remain on the drawing board; the foundations and much of the scaffolding were set up during the war.' When military reverses in the East led Germany to substitute limited economic co-ordination and a degree of inward investment for crude exploitation, there was less talk of economic integration, but correspondingly more concerning the putative defense of 'Western' civilization against Bolshevik armies or Afro-American airmen.
But German domination of what was a dialogue should not be over-emphasised, a dialogue moreover involving many partners who were weary of the economic dislocation of the 1930s, and resentful of the position of Britain or the United States of America. Europe was both a political and economic issue, however much the bankers and insurers thought otherwise. Much of the European rhetoric emanated from European collaborators, keen to assert the importance of small countries with proud historical traditions within the emergent National Socialist 'New Order'. Accepting overall German hegemony, the Rexist Degrelle stressed Belgium's role as both a 'jetty' to North American markets and a 'turntable' for Europe as a whole, chucking in for good measure the rich north-south cultural dialogue evident in early modern Antwerp. By October 1940, his Norwegian colleague Quisling had abandoned earlier schemes for a Greater Nordic Union, mediating between Britain and Germany, in favor of a 'Pan-Germanic federation', with a federal flag and the Fuehrer as federal president. Mussert preferred a 'Germanic Reich', consisting of a confederation of states, with the Waffen-SS as its common defense force, and the Dutch having access to Lebensraum in the East, where they could bring to bear their experiences in Java or Sumatra, while retaining control of their colonial empire. All of these individuals conceded Germany the right to organize Europe. However, their subscription to a profusion of fascist nation states collided with Hitler's racially exclusive obsession with Germandom. They wanted to retain a slice of a cake Hitler was not prepared to cut up.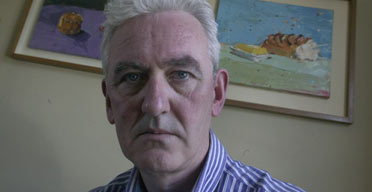 http://www.nytimes.com/books/00/12/10/reviews/001210.10berghat.html
http://yannatry.blogspot.com/2010/04/mauthausen-concentration-camp.html


Note: The content on this page changes every 24-48 hours (Midnight EDT).


 

  
 
 

 

  
  

Click to join 3rdReichStudies



 

Disclaimer: The Propagander!™ includes diverse and controversial materials--such as excerpts from the writings of racists and anti-Semites--so that its readers can learn the nature and extent of hate and anti-Semitic discourse. It is our sincere belief that only the informed citizen can prevail over the ignorance of Racialist "thought." Far from approving these writings, The Propagander!™ condemns racism in all of its forms and manifestations.

Fair Use Notice: The Propagander!™may contain copyrighted material the use of which has not always been specifically authorized by the copyright owner. We are making such material available in our efforts to advance understanding of historical, political, human rights, economic, democracy, scientific, environmental, and social justice issues, etc. We believe this constitutes a "fair use" of any such copyrighted material as provided for in section 107 of the US Copyright Law. In accordance with Title 17 U.S.C. Section 107, the material on this site is distributed without profit to those who have expressed a prior interest in receiving the included information for research and educational purposes. If you wish to use copyrighted material from this site for purposes of your own that go beyond 'fair use', you must obtain permission from the copyright owner.