August 14
"The true meaning of life is to plant trees, under whose shade you do not expect to sit." -Nelson Henderson
"...President Franklin D. Roosevelt signs into law the Social Security Act. Press photographers snapped pictures as FDR, flanked by ranking members of Congress, signed into law the historic act, which guaranteed an income for the unemployed and retirees. FDR commended Congress for what he considered to be a "patriotic" act..."
August 14
"...New York Congressman Hamilton Fish—president of the US delegation to the Interparliamentary Union Congress conference in Oslo, Norway—meets with Ribbentrop. Fish is a vocal isolationist and staunch opponent of Roosevelt. The congressman advocates better relations with Germany and hopes to solve the Danzig question during the August 15-19 conference in Norway. Ribbentrop tells Fish that Germany has lost its patience and unless Danzig is restored to Germany war will break out. Ribbentrop served as Foreign Minister of Nazi Germany from 1938 until 1945. Fish flew to Oslo in Ribbentrop's private plane. Fish, a staunch opponent of Roosevelt, advocated better relations with Nazi Germany and hoped to solve the Danzig question during the conference in Norway. Stepping out of Joachim von Ribbentrop's plane in 1939, Fish opined that Germany's claims were just. Upon his return to the States, Fish used his office to distribute copies of The Protocols of the Elders of Zion. When accused of anti-Semitism, he responded, "It doesn't bother me any. There's been too much Jewism going around anyway..."
August 14
"...Even though Japan's War Council, urged by Emperor Hirohito, had already submitted a formal declaration of surrender to the Allies, via ambassadors, on August 10, fighting continued between the Japanese and the Soviets in Manchuria and between the Japanese and the United States in the South Pacific. In fact, two days after the Council agreed to surrender, a Japanese submarine sank the Oak Hill, an American landing ship, and the Thomas F. Nickel, an American destroyer, both east of Okinawa. In the afternoon of August 14, Japanese radio announced that an Imperial Proclamation was soon to be made, accepting the terms of unconditional surrender drawn up at the Potsdam Conference. That proclamation had already been recorded by the emperor. The news did not go over well, as more than 1,000 Japanese soldiers stormed the Imperial Palace in an attempt to find the proclamation and prevent its being transmitted to the Allies. Soldiers still loyal to Emperor Hirohito repulsed the attackers. That evening, General Anami, the member of the War Council most adamant against surrender, committed suicide. His reason: to atone for the Japanese army's defeat, and to be spared having to hear his emperor speak the words of surrender..."
August 14
"...[German] Citizens vote for the first time since the end of the war, after a 're-education' program creates proper conditions for the vote. Konrad Adenauer becomes the first chancellor of the Federal Republic of Germany..."
August 14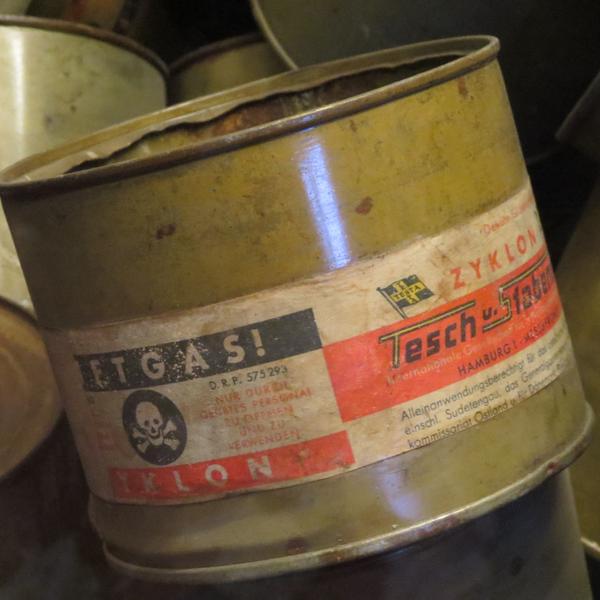 Cynthia Southern's Holocaust Daily (@cmsouthern) Auschwitz 08/12-1942: Kommandant Hoess makes the SS Garrison Doctor responsible for accidents to SS men caused by gas, especially those resulting from opening rooms treated with gas without wearing a gas mask, He calculates that a distance of 16 yards from the gassed room must be maintained, taking into account the direction of the wind, The gas presently used is especially dangerous because it is almost odorless. Hoess issues this special order when the symptoms of a slight poisoning with hydrogen cyanide appear in a SS man. Since gassing of the rooms with Zyklon B is discussed in this order, this accident probably happened in the disinfection of the blocks left by the women inmates in the main camp (Blocks 1-10). Image of a Zyklon B can courtesy of Cynthia Southern.
Today's Insult: "Customers at a Georgia subway restaurant located inside a Walmart started throwing things at the workers because the store's lettuce looked brown. Because there is no customer with more discriminating taste than one who eats at a Georgia subway in a Walmart." –Seth Meyers
Today's Comic: Conan O'Brian: "Smokey Bear just celebrated his 70th birthday. Smokey Bear is 70. Can you believe he's that old? Smoky says he puts out fires by waking up seven times a night and peeing on them."
Adam and Eve had been together for only a short time when Adam made the mistake of showing up late for dinner one evening. Eve immediately became suspicious: "So, what happened? Why are you home so late?" "Oh I'm sorry," Adam responded with a wave of his hand, "I just lost track of the time." Now, Eve didn't have a Mother or girlfriend around to calm her fears—after all it was just her and Adam—so her overactive imagination got the best of her: "Come here and take off that shirt, Adam. I want to count your ribs!"
Twitter: @3rdReichStudies
Note
: Images may or may not accurately represent the item adjacent to them. Also, please note that there is much, much, MUCH more detail available-and many, many, MANY more items as well-every day on the linked
What Happened Today
page. For the full story behind the events of this day, click the
August 14
link. Really,
August 14
. Seriously, the
August 14
link is the one to click. That's right, this one:
August 14
Disclaimer
: The selected Quotes, Jokes and Cartoons may or may not represent the views of the compiler of these daily posts. If they give you something to think about, they will have accomplished their task.
Levi Bookin
, Copy Editor, in particular bears no responsibility for any of them. He does, however, do a truly admirable job on the linked Daily pages, which everyone should peruse on a daily basis. It is WELL worth the small effort required. The Trick is to Click->
August 14
Click to join 3rdReichStudies
(http://www.nydailynews.com/new-york/bronx/holocaust-survivors-stories-kittay-house-bronx-article-1.1307785)
From FDR and the Jews, by Richard Breitman and Allan J. Lichtman: Some Republican leaders openly warned of Jewish radical influence on the Roosevelt administration. New York Republican representative Hamilton Fish Jr., who represented FDR's home district, named six Jews on his list of sixteen alleged pro-communists in the Roosevelt administration. He denounced "young radicals, so-called economic experts and lawyers, of Felix Frankfurter's school of thought, most of whom are disciples of Karl Marx." Republican representative Frederick Britten of Illinois charged that Reds planned their mischief at a "little red house down in Georgetown where are held the meetings that promote the communistic legislation . . . every night of the week from ten to eighteen young men of communistic minds meet. . . . They call them Frankfurter's hot dogs."
Frankfurter responded to this raising of the "Jewish Question" in America with a warning to his former Harvard protégé and White House insider Thomas "Tommy the Cork" Corcoran, an Irish Catholic who lived in the little red house with FDR's Jewish adviser Benjamin V. Cohen. Frankfurter told him that the fear of anti-Semitism was more insidious than its reality. Opponents of the New Deal he warned, would "spread rumors about Jewish influence" in the hope of weakening liberal resolve for both domestic reform and Jewish causes. He insisted that concern about an anti-Semitic backlash should not deter the administration from advancing the New Deal or aiding imperiled Jews. Other advisers and officials, including some Jews, disagreed.
The American Hebrew newspaper rebutted charges of a "Jew Deal" with statistics showing that "the much discussed Jewish influence on the national administration is more myth than fact." Henry Morgenthau Jr. was the only Jewish cabinet member, and no Jews headed any of the twenty-five independent offices of government or the twenty emergency relief administrations. No Jews held high positions in the departments of justice, war, the navy, and commerce, and few Jews represented America abroad.
Jewish organizations tried to counteract suspicion of Jewish causes by presenting a uniting American front against Nazi evil. On March 10, the American Jewish Congress and the American Federation of Labor presented "The Case of Civilization against Hitlerism," before 20,000 "jurors" at Madison Square Garden. They put on trial Hitler's dictatorship as an affront to all civilized peoples, not just Jews. Christians headlined the event. President Wilson's former secretary of state Bainbridge Colby presided, and Judge Samuel Seabury of New York summed up the case against Hitler. Twenty "witnesses" testified against the Nazis. Al Smith and New York mayor Fiorello H. LaGuardia testified for the American public. Few Americans knew that this famous Italian American had a Jewish mother. Author Miriam Beard, daughter of the well-known progressive historians Charles and Mary Beard, testified for women; American Legion official Edward J. Neary for war veterans; Commonweal editor Michael Williams for Catholics; and Reverend Arthur Brown for Protestants. Once again missing was any Catholic Church official or a witness for African Americans. Reverend John Haynes Holmes, Rabbi Stephen S. Wise's ally in New York reform politics, announced the inevitable guilty verdict.
Simultaneously, B'nai B'rith, following the precedent of its petition to Nicholas II in 1903, sent a petition to FDR with 250,000 signatures protesting Germany's treatment of Jews. The organization asked the president to forward the petition to Hitler, along with a diplomatic note backing the protest. Undersecretary of State Phillips wrote in his diary that the petition "is, of course a movement by American Jews, but the signature [sic] are not confined by any means to Jewish names." The petition and other pleas went unanswered. A despairing Rabbi Wise wrote in May to Jacob Billikopf, "One goes on working here and it is all so difficult. In the end I suppose the counsel of cowardice and silence that prevailed in Germany will prevail here."


Note: The content on this page changes regularly.


 

  
 
 

 

  
  

Click to join 3rdReichStudies



 

Disclaimer: The Propagander!™ includes diverse and controversial materials--such as excerpts from the writings of racists and anti-Semites--so that its readers can learn the nature and extent of hate and anti-Semitic discourse. It is our sincere belief that only the informed citizen can prevail over the ignorance of Racialist "thought." Far from approving these writings, The Propagander!™ condemns racism in all of its forms and manifestations.

Fair Use Notice: The Propagander!™may contain copyrighted material the use of which has not always been specifically authorized by the copyright owner. We are making such material available in our efforts to advance understanding of historical, political, human rights, economic, democracy, scientific, environmental, and social justice issues, etc. We believe this constitutes a "fair use" of any such copyrighted material as provided for in section 107 of the US Copyright Law. In accordance with Title 17 U.S.C. Section 107, the material on this site is distributed without profit to those who have expressed a prior interest in receiving the included information for research and educational purposes. If you wish to use copyrighted material from this site for purposes of your own that go beyond 'fair use', you must obtain permission from the copyright owner.